BAM Lynnwood Networking Coffee

Please join us for an informative networking experience. You will meet other local experienced women business owners, professionals and executives from all over the area! Following open networking time, we will have the privilege to learn from our guest speaker, Lissy Des Voigne on The Six Pillars of Money Love.
Life Coach, Lissy Des Voigne will share tips on how to build a healthy, stress-free relationship with one of the hardest things to talk about, money. We'll discuss why being consciously connected to your money is so important and how to use money to create your dream life. We'll touch on:
• Why money matters
• Recognizing your money stories
• Couples, money, divorce and transition
• How money affects women
• The six keys to developing a healthy money practice

About Lissy Des Voigne: As a partner in Divorce Strategies Northwest, Melissa (Lissy) Des Voigne works with clients going through divorce to help them envision and create their next chapter after divorce. Lissy is a Certified Holistic Life Coach and Personal Finance Coach who helps clients to create a positive vision for the future and then identify goals and next steps to achieve that vision, as they move through the divorce process. Post-divorce, Lissy works with clients to obtain a clear picture of their day-to-day finances, so they can confidently negotiate a sustainable financial plan for the future. Financial coaching is part practical skills and part emotional exploration. Much of the work involves helping clients to recognize their "blind spots" around money and then learning to apply personal money management skills to stay connected to their money. This unique coaching process allows clients to see their financial picture clearly, and to confidently create an intentional financial life, both now and for the future. Lissy lives in Lake Forest Park with her husband, their two sons and their Goldendoodle George.
NOTE NEW LOCATION/DATE/TIME
Lynnwood Grange, 20526 52nd Ave W, Lynnwood, WA 98036, USA
2nd Wednesday of the month
10:00 - 11:30 AM
*************************************************************************
Schedule:
10:00 - Doors Open
10:00 - 10:30 AM Open Networking
10:30 - 10:45 - Announcements/Small Group Networking and Discussion
10:45 - 11:30 - Speaker
BAM members are $5, $15 for non-members
*************************************************************************
Please bring at least 25 business cards and promotional/marketing materials for your business. If you have questions, please contact:
Melinda Rodrigues - melinda@278marketing.com
Julie Fry - julie@businessamongmoms.com or 206-683-6340
Please visit: http://businessamongmoms.com/
You can Like our Facebook page as well: www.facebook.com/businessamongmoms

BAM Members have a Members Only page as well that you will be added to once your membership is confirmed.
You can begin your Membership here to get the member discount! http://members.businessamongmoms.com/join
Monthly is $20/month
Annual Membership is $169/year

Feel free to share this event on Facebook and Twitter

We hope you can make it!
Be Helpful and Be Kind

Julie Fry - Chief Mom Officer
Melinda Rodrigues - Chapter Leader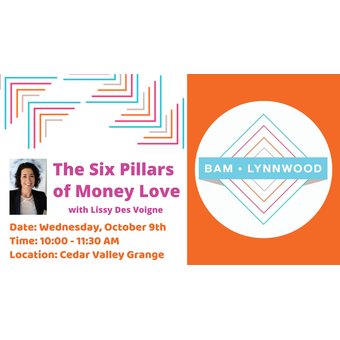 20526 52nd Ave W, Lynnwood, WA 98036, USA